As hard as it may be to believe, plastics and cars are inventions of the same era, the 19th century. Today, they are increasingly used in the construction of modern cars. In this context, they are often referred to as the materials of the future due to their light weight, strength and easy formability. But modern plastics offer many more advantages.
Plastics have been with the automotive industry from the very beginning. The earliest thermoplastic material, celluloid, was invented in 1855, and only thirty years later the first vehicle to be considered a car, the Carl Benz Patentwagen 1, was built. The first attempt to build a car made entirely of plastic was made by Henry Ford in 1941, due to steel rationing during the war. The mass use of plastics, however, started with the production of the Ford T model in 1951.
Today, it is estimated that a statistical vehicle contains between 40 and 100 kg of various plastic parts, which account for only 10% of its weight. With the dynamic progress in plastics processing technologies, the range of applications in modern vehicle construction continues to grow and designers and constructors have more and more opportunities thanks to the excellent quality and optimum parameters of plastic parts.
See more: The history of plastics in cars – how it was used?
Lightweight plastic automotive parts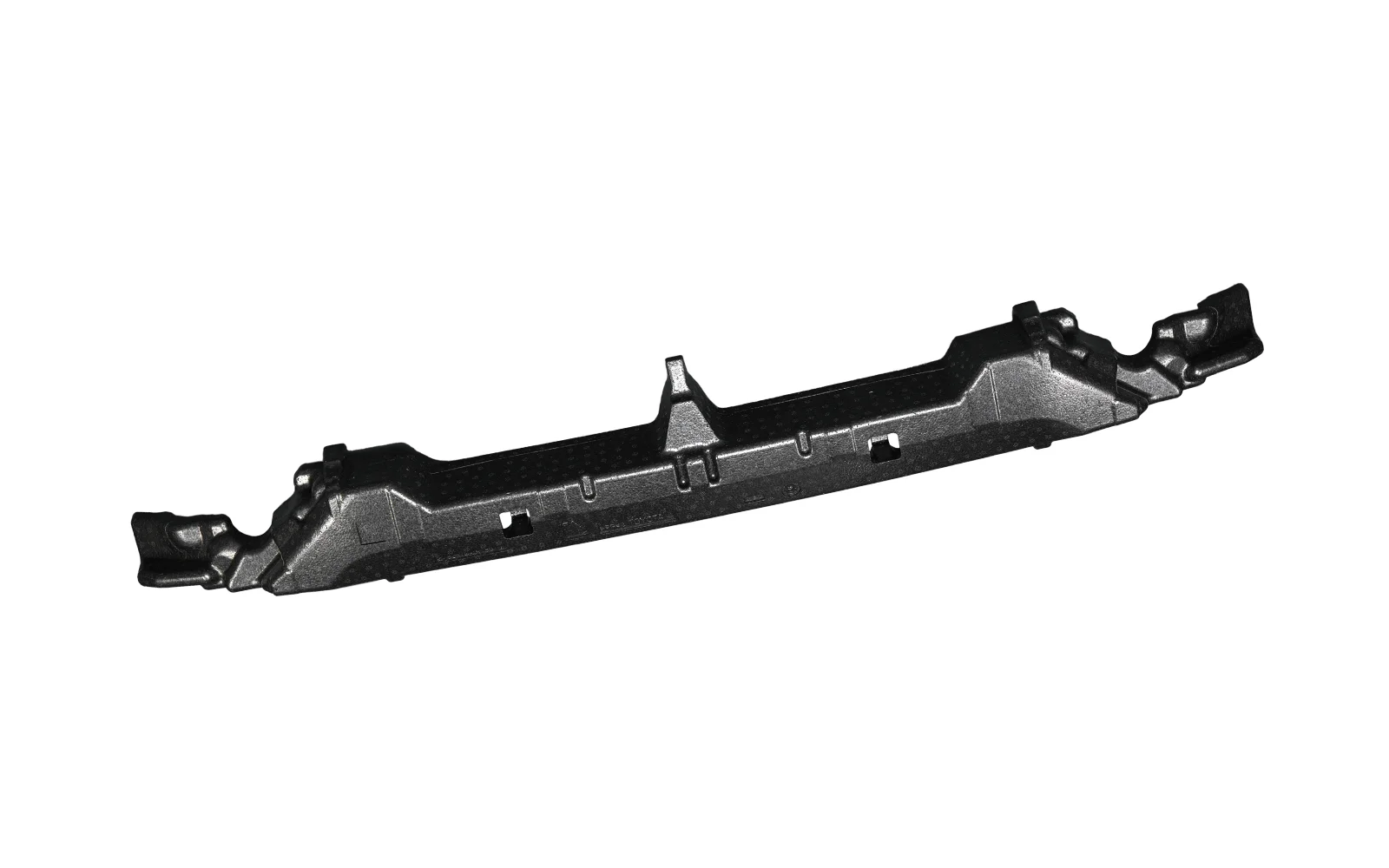 The gradual replacement of metal components by plastic automotive parts has always been driven by the need to reduce vehicle weight and improve performance. Plastics have a lower density than steel while offering increasingly better properties in terms of mechanical strength and durability. Initially automotive plastics were mainly used for interior finishing. Today, they are also used for exterior car parts traditionally reserved for sheet metal and steel such as doors, fenders, bonnets and even bumpers. No wonder – the ACC estimates that American cars travel around 1.5 kilometres more per litre of petrol than they would without plastics. Greater range with lower energy requirements is a key benefit for the electric car segment in particular.
Today, newer types of plastics are used in cars. For example, traditional polyurethane foam seat and head restraint panels are being replaced by much lighter and more durable expanded polypropylene (EPP), which is also a renewable material and therefore better suited to today's automotive trend.
See more: Car bumper safety – what material and construction is the best for bumper in a modern car?
What type of plastic is used in car interiors?
One of the reasons why plastic parts are becoming increasingly important in the construction of modern cars is the rapid development of plastic processing technology. Plastics used in cars have the potential to develop new properties to meet the rapidly changing needs of the automotive industry. One example is safety, which is now mainly discussed in terms of active car safety systems. However, the increasing sophistication of the electronics must be followed by a robust vehicle construction and the use of new materials that better protect not only the passengers, but also the sensitive components of intelligent systems.
Polypropylene foam not only absorbs shocks and impacts very well, but also thermally insulates cables and electronic components. Thanks to special additives, it can withstand fires and temperatures of up to 140°C, as confirmed by UL 94 tests. What is more, it is already being successfully used, for example, in the manufacture of batteries for electric cars due to its puncture resistance, as well as the possibility of giving it antistatic properties. Specialized parts made of this plastic can also have increased resistance to shock or mechanical fatigue. This is why they work so well in car boots, for example.
The list of plastic parts in a car
Nowadays, more and more car manufacturers use plastic car parts. It is understandable – modern plastics are not only durable but also make the construction of cars lighter allowing to reduce fuel consumption. Plastic processing is for Knauf Automotive core business. Our 42 plastic processing plants have unique know-how crucial for defining technical requirements that meet clients' expectations. Moreover, thanks to our modern machine park in Wrocław, Poland we manufacture plastic parts by thermoplastic injection molding. In addition to conventional plastic injection molding, we specialize also in process simulation, assembly and optimization of additional production processes like cutting, overmolding, and surface plastic parts decoration.
See also: DFM – design for manufacturing process
On the list of plastic parts in a car, which we manufacture of Knauf Automotive are a.o.:
interior car components like:
dashboard elements (e.g.: glove compartment, door and window pillars)
steering column trims
door handles
air vents
centre consoles
roof modules
exterior car components like:
wheel arches
grilles
floor rails
door panels
car seat components like:
headrests covers
seating inserts
the EPP foam base of child's safety seats
car battery insulation systems and shock management solutions for a.o. electric and autonomous vehicles
If you have any questions about technology of plastic processing or Knauf Automotive offer of manufacturing automotive components please contact with us for more details.
As you see, in modern, ecological cars dashboards, gauges, dials, switches, air conditioner vents, door handles, floor mats, bumpers, and many other parts are all made from different types of plastics. Check how to choose the best type of plastic for the needs of your manufacturing process.
New types of plastics in cars
More than 70% of the plastic used in automobiles comes from four polymers: polypropylene, polyurethane, polyamides and PVC. The most frequently used is polypropylene which is thermoplastic polymer and can easily be formed into almost any shape. Thanks to its excellent chemical and heat resistance it is frequently used in car bumpers and car's interior flooring. It also helps to drive down the cost of manufacturing and achieve good quality products.
On the other hand parts like steering wheel covers and dashboards are often made of ABS plastic. What's more a lot of components are made also from new types of plastics like:
NEOPS
Expanded polypropylene foam (EPP) with increased fire resistance
PEPP (porous expanded polypropylene)
ARPRO EPP with special aesthetical properties
Plastics used in cars, like EPP, EPS and others help the body absorb and redistribute energy during an impact, keeping passengers safe.
For the production of injection molded automotive components Knauf Automotive efficiently process: EPP, EPS, NEOPS, PC, PS, ABS, PC/ABS,PP/EPDM, PA6 GF30, PP GF30,PP+T and many more.
Read more: Our sustainable plastics – innovative materials for automotive sector
Recyclable plastics in cars is the current trend in automotive manufacturing
The interiors of premium cars used to be characterized by exclusive additions of natural leather, shiny metal or wood. Today, ecology has become the benchmark of luxury. For this reason, high-end vehicles cannot fail to feature elements made of materials that are fully renewable, do not deplete natural resources and are produced using ecological processes. Their use is no longer the exception, but has become the rule. In Europe, manufacturers are even obliged to use such materials under the EU directives, which constantly increase the requirements related to the suitability of vehicles for recycling. The EPP foamed polypropylene plastic car parts produced by Knauf Industries are fully compliant with these requirements and give designers a wide range of possibilities to individually design the interiors of high-end cars.
This modern plastic is 100% recyclable and can be reused in subsequent manufacturing processes. The compression moulding process itself does not generate harmful emissions into the atmosphere, and the process water needed to generate steam circulates in a closed loop. What's more, thanks to modern 3D visualisation techniques, coloured granules and tactile textures, plastic car parts can have a fully customised aesthetic. All this makes this material a part of the future of automotive industry.