Knauf Industries

Expertise
Plastics molding technology has been the core business of Knauf Industries ever since its creation.
KNAUF GROUP
Expertise
Over thirty years of experience coupled with state-of-the-art production facilities, global presence and financial strength allow us to consider ourselves as experts in the expanded foam molding industry. Knauf Industries, also a renowned injection molder offers a unique combination of know-how in plastics molding technologies for clients in the automobile industry worldwide.
Our research and development facilities, design offices and our technically skilled sales team provide us with expertise that allows us to offer a full range of plastics based automotive solutions.
Expanded Polypropylene (EPP) / Expanded Polystyrene (EPS) processing
Technologies
Plastics molding technology has been a Knauf Industries core business ever since its creation. Our expertise in EPP and EPS helped us to develop our unique offering for the automotive industry where these materials have gained a strong foothold. Our 35 EPP/EPS processing plants are strategically located to best serve the supply chains of our most demanding international customers.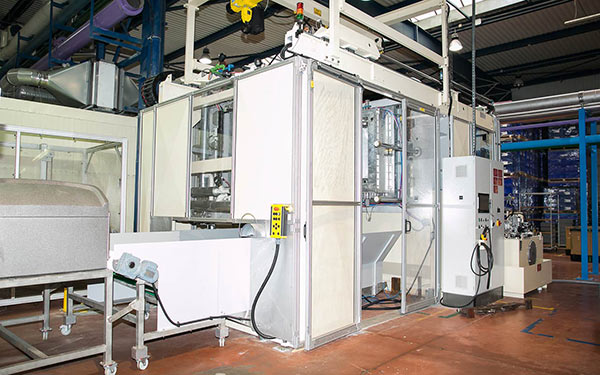 The industrial expertise, molding know-how and market experience are crucial for solutions development of foam products on the automotive market. Our teams work closely with clients to evaluate their needs and define technical requirements for expanded foam products that meet their expectations. After thorough analysis and close communication with our customers, we work on custom-designed foam solutions or design to cost solutions, ensuring through our recommendations the suitable material choice and specifications for meeting quality and functional targets of the parts. Our Program Management System is bringing to OEMs and Tier-1 clients engineering support during all products' life, i.e. from project advanced phase till end of supply of products, including hence design, development, and industrialization of parts with possible added-value operations.
Plastic injection for automotive
Technologies
In our Polish plant in Wrocław we manufacture plastic parts by thermoplastic injection molding for the automotive industry. Robust injection molding technology stemming from our foundations in the home appliance industry has enabled us to start production of EXTERIOR and INTERIOR car parts for Tier-1 suppliers in 2012.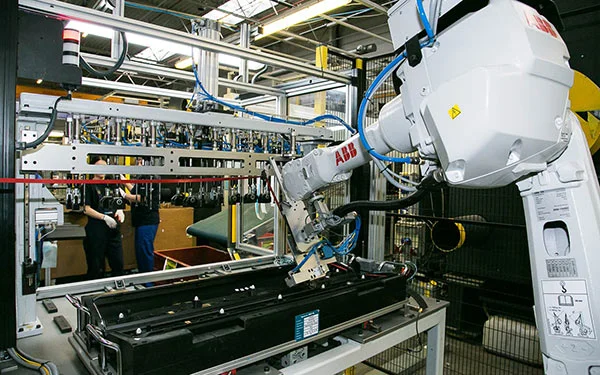 The machine park installed in the Wrocław plant has 17 machines (from 40T to 2000T). All presses are equipped with SEPRO manipulators. On selected machines we have ABB six-axis robots, which can be used to perform difficult operations directly on the machine such as: ingot cutting, gradation, and flame cutting (PP surface activation)
At present our service covers the full range of design works:
Full simulation of processes (FS, DFM, Mold Flows) based on CAD model
Development and coordination of tool implementation (Europe, Asia)
Coordination of texturing (Standex, Mold Tech)
Testing, measuring reports
Full reporting by PPAP or VDA
Production and service of molds
In addition to conventional injection, we perform additional operations directly at the machine. Their scope includes: assembly of soundproofing elements, clips, hooks, ultrasonic welding and others. Injection molded parts for automotive have become the flagship product of the Polish Knauf Industries factory.
Innovation
If you seek an innovative plastic parts supplier,
you are in the right place!
In Knauf Industries we constantly test and develop new technologies in plastics molding to enable our clients the access to fully proof-checked, cutting-edge solutions.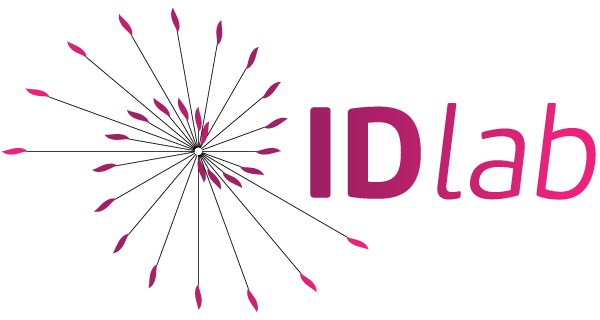 Welcome to our new initiative - the ID Lab. Together with our top product and technology development experts, we have created a new space dedicated to innovation and development of cutting-edge technologies. Our main goal is to help our clients preserve their leading position in the competitive automotive market.
Materials
With our processing equipment, we are able to process a variety of foam materials as well as all known co-polymers.
We manufacture our automotive packaging and components using a variety of expanded foam materials including expanded polypropylene (EPP) and expanded polystyrene (EPS) and other special co-polymers used for Lost Foam casting process. For the production of injection molded automotive components we efficiently process: PC, PS, ABS, PC/ABS,PP/EPDM, PA6 GF30, PP GF30,PP+T and many more.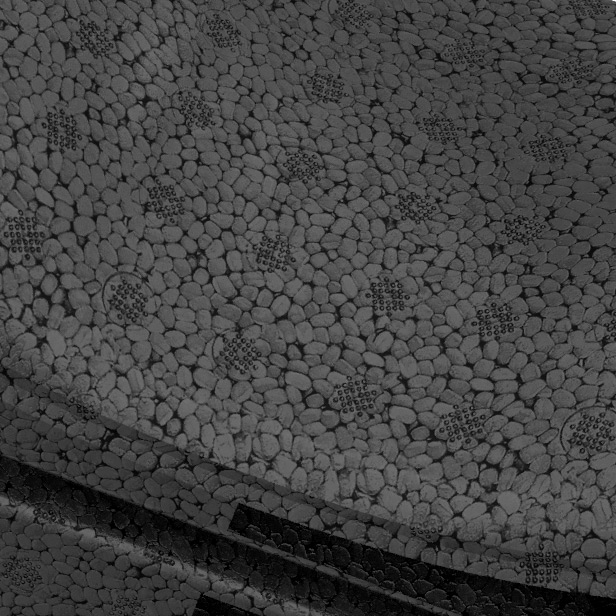 Expanded Polypropylene (EPP)
Expanded Polypropylene (EPP) is a trustworthy and well-tested material used in a wide variety of automotive applications and valued by the most renowned car-makers
Lightweight, energy absorbent and mouldable EPP enables component-consolidation and assembly-time reduction improvements and can adapt to space and shape constraints across vehicle systems. Expanded Polypropylene can be made in a wide range of densities, from 15 to 250 grams per litre by fusing individual beads together during a moulding process.
This highly versatile, closed-cell bead foam provides a unique range of additional properties rated highly by the automotive industry:
Light weight
Outstanding energy absorption
Multiple impact resistance
Thermal and acoustic insulation
Buoyancy
Water and chemical resistance
Exceptionally high strength to weight ratio
100% recyclability
EPP is successfully used in the automotive industry in conjunction with other components and materials to make vehicles lighter and safer.
In Knauf Industries we are striving to create additional value for our cusomerts making the most of our foam materials. That's why we developed a palette of 36 textures in 4 lines corresponding to the latest trends in industrial design.
The textures with graphical shapes on the surface of EPP material make it an attractive alternative to traditional foam parts, which additionally require a decorative finish.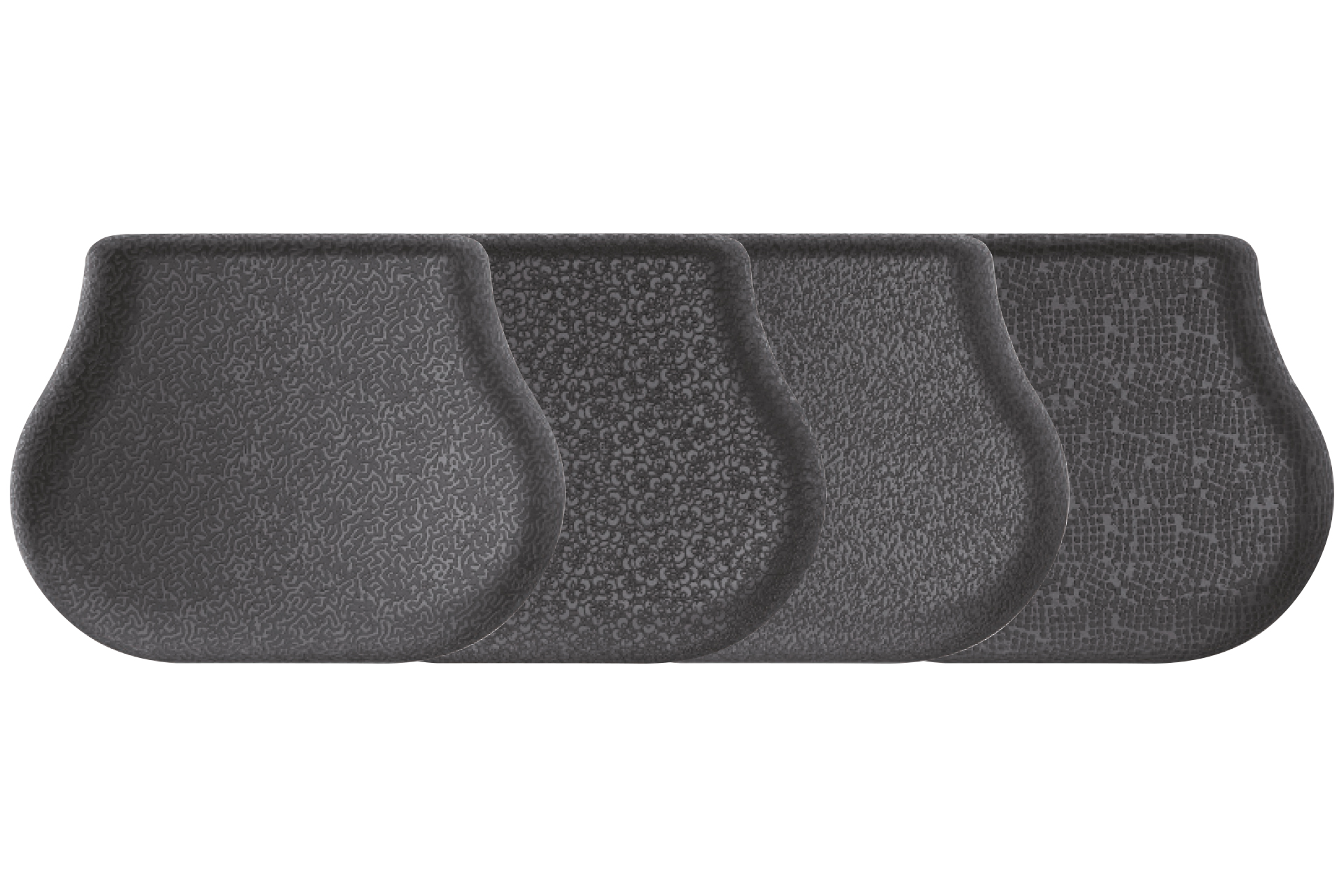 To find out more about our original EPP surface textures download our brochure here.
Read also the interview with our Chief Innovation Officer about innovations in texturing technology.
Our offering of Expanded Polypropylene components comprises:
Bumpers
Seating
Safety, interior and storage systems
Moreover, EPP proves to be the perfect material solution for rotation packaging protecting fragile car parts during transport and warehousing.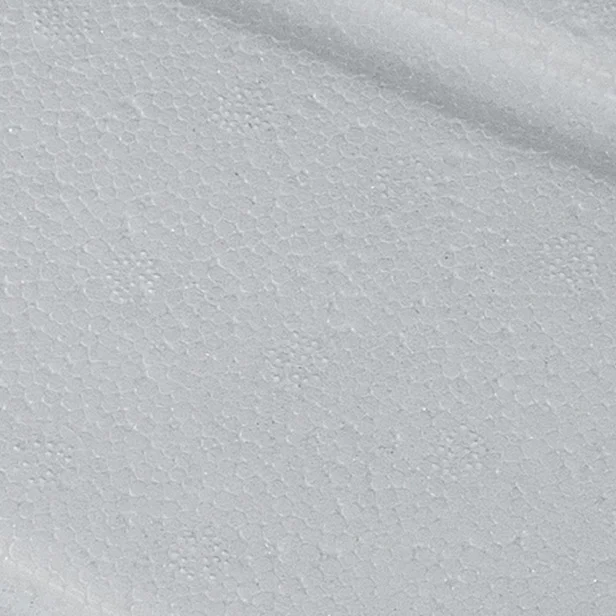 Expanded Polystyrene (EPS)
Expanded Polystyrene, is a cellular material widely used in the automotive industry. EPS is produced via the expansion of polystyrene beads by heating them with steam. Thus they are transformed into fine spherical shaped particles which are comprised of 98% air and 2% polystyrene. The material can be molded into packaging and components of versatile shapes and sizes.
Being an expert in light and resistant foam materials we elaborate for our automotive clients a variety of cost-effective packaging and cushioning solutions from Expanded Polystyrene.
The material boasts a great number of properties that make it a privileged alternative to other plastics:
Expanded Polystyrene is 98% air, 2% polystyrene
wide range of densities, from 8 to 150 grams per litre
exceptionally light and flexible, yet durable
EPS is safe and environmentally neutral
excellent insulating and acoustic properties
100% recyclability
Would you like to learn more about the applications of EPS in automotive industry? Read our article here.
Quality
Quality Certification Systems
Our 42 manufacturing facilities are accredited to a number of different certifications relating to the Environment, Quality Management and Health & Safety. By obtaining and maintaining these industry leading certifications we guarantee to our customers that our products and processes are in full compliance with international and national regulations and standards.
IATF 16949 - Quality Management Systems
What does IATF 16949 mean for our customers?
Assures that our processes aim towards continuous improvement
Ensures products are manufactured to the customer standards
Increases processing efficiency, (Fewer rejects and line stoppages)
Assures continuity of supply
Standardizes a prompt and efficient reaction to concerns
Establishes standards in the development and introduction of new business
Assures employees competence
Guarantees the highest standard of risk management
ISO 9001-Quality Management Systems
The ISO 9001 is a guarantee for the continuous improvement of quality management systems (QMS) and processes in all our production sites. Owing to our certification we are able to meet the most rigorous quality requirements of our customers by following the 7 principles:
What are the advantages of ISO 9001 for our Customers?
QMP 1 – Customer focus: our primary focus is to meet customer requirements and to strive to exceed their expectations.
QMP 2 – Leadership: our leaders at all levels establish unity of purpose and direction to create conditions in which people are engaged in achieving the quality objectives of the organization.
QMP 3 – Engagement of people: our co-workers at all levels throughout the organization are competent, empowered and engaged people focused on creating and delivering value.
QMP 4 – Process approach: our business activities are understood and managed as interrelated processes that function as a coherent system. Owing to this approach consistent and predictable results are achieved more effectively and efficiently.
QMP 5 – Improvement: we focus on the improvement of process performance by enhancement of root-cause investigation and determination, followed by prevention and corrective actions. The ISO 9001 guarantees the ability to anticipate and react to internal and external risks and opportunities. It also encourages the drive for innovation throughout the organization.
QMP 6 – Evidence-based decision making: we understand perfectly the cause-and-effect relationships and potential unintended consequences in our business activities. Facts, evidence and data analysis lead us to greater objectivity and confidence in decision making.
QMP 7 – Relationship management: optimal relationship management with our supplier and partner networks is of particular importance for us. It ensures a well-managed supply chain that provides a stable flow of goods and services and increases the capability to create value for interested parties by sharing resources and competence.
ISO 14001 - Environmental Management Systems
14001 proves our environmental commitment throughout our business activities. It assures that we comply with the latest environmental legislation and engage daily in reduction of the environmental impact our operations may cause.
What are the benefits of ISO 14001 for our Customers?
Permanent compliance with environmental legislation
Minimization of energy and resource usage reducing operating costs
Constant improvement in environmental performance