Once considered to be a synonym of luxury, it is now becoming the standard equipment for new generation vehicles. Modern car armrests not only provide comfort for the driver but also offer a wide variety of features related to the operation of a car.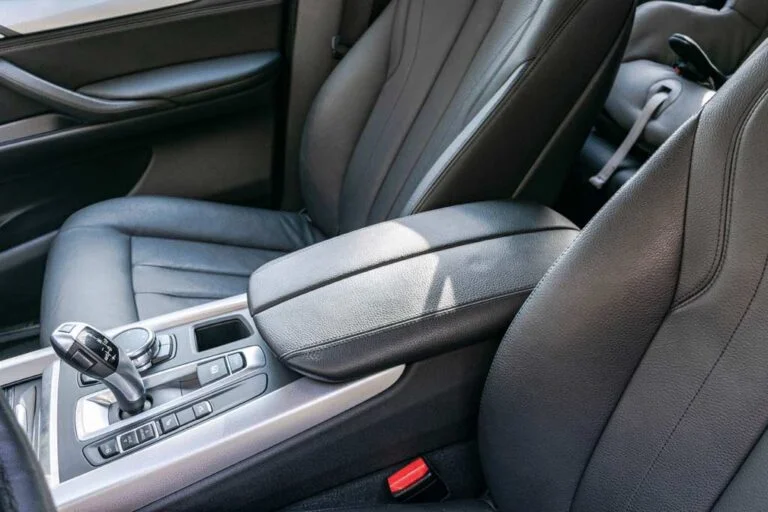 Front and rear armrests are no longer a distinctive feature of luxury vehicles. Nowadays they can also be found in middle-class cars, no matter whether it is a hatchback, a sedan or a SUV. As the expectations of potential buyers become higher, car manufacturers are trying to equip the new models with increasingly comfortable equipment, such as multi-function armrests. They mainly provide increased driver comfort. An armrest offers the possibility of comfortably positioning your hand when driving on a motorway or standing in traffic, yet not only. Depending on the equipment of an individual vehicle, it can also combine the functions of the control console of the vehicle's electrical systems and the practical storage compartment. Car armrests are manufactured from a variety of materials, including a hard plastic base, a soft foam top, and an outer pad. All these components should provide comfort of use, durability, stability and safety.
Armrests for car seats – comfort and functionality?
The front armrest ensures comfortable steering. Owing to the possibility of resting your right hand freely, it ensures stable support and a favourable back position. The advantages of having this type of equipment can be recognised especially when driving on a dual carriageway or a motorway during a monotonous and long journey without the need to change gears and manoeuvre. This element may also be useful when standing in traffic or when driving very slowly, as it allows the driver to relax his/her hand and forearm muscles. A car armrest has become a necessity, particularly in new vehicles, which are more and more often fitted with an automatic gearbox. The driver no longer has to operate the gear stick with his/her right hand, which is now mainly used to stabilise the steering wheel. As modern technologies develop and the number of intelligent systems in cars increases, the driver's seat armrest has also become a console for operating various functions. Foldable armrests mounted on the rear bench seat have undergone a similar transformation. They are mainly used by passengers, providing them not only with increased comfort but also with safety.
Multi-function armrest for different applications
Over time a car armrest has evolved from an element providing hand support into an additional space for many additional applications. Apart from the most obvious function of a storage container, a coffee cup or water bottle holder, this element has also become a kind of console that allows for controlling numerous systems on-board the car. It can be used to close car windows, to adjust the air conditioning or to activate the driver's seat massage function or to operate on-board infotainment systems. Additional air conditioning outlets for passengers, USB sockets and a mini fridge with cooling system may be located on/within the car armrest. In more luxurious versions, the armrest may have a built-in console with basic functions, while advanced options are available from the infotainment system. Fold-over rear armrests, in addition to the above-mentioned functions, also play an important role related to the passive safety system. They may be used as an additional seat for the passenger and may be fitted with additional seat belts when folded.
Find out more at: The back seat in a car – what is its meaning for safety?
Durable armrest – which material to choose?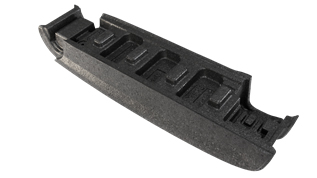 An armrest is one of those parts of the car interior that wear out the fastest, so it should be made of very durable materials to ensure its long-term use. On the other hand, it should provide comfortable support – when too hard, it may cause discomfort and when too soft, it may provide poor hand stability. Quite often drivers who experience discomfort when using the armrest buy special armrest cushions to improve the comfort of use. Any armrest, in addition to a hard plastic base panel, consists of various foam materials designed to ensure the proper shape of the component and of a top layer that feels pleasant to the touch. Among plastics used to make armrest fillers, expanded polypropylene (EPP) is the best option, as it does not undergo permanent deformation and returns to its previous shape after the pressure has ceased. At the same time, it is flexible and feels pleasant to the touch. Modern, expanded plastic processing technologies provide a wide range of design and manufacturing flexibility for any shape, including precisely profiled cable routing. At the same time, expanded polypropylene (EPP) has excellent damping and thermal insulation properties, which make it ideal for the purposes of in-car mini-refrigerators and protecting sensitive electronics. It can be very easily combined with other materials, so it can be used to produce a wide range of car armrests in any class.