At Knauf Industries Automotive we strive to deliver added value to our Customers, elaborating customized solutions from plastics in demanding projects. Among them, we can mention our latest development (bumper energy absorber module) with one of the renowned OEMs.
What is bumper absorber module?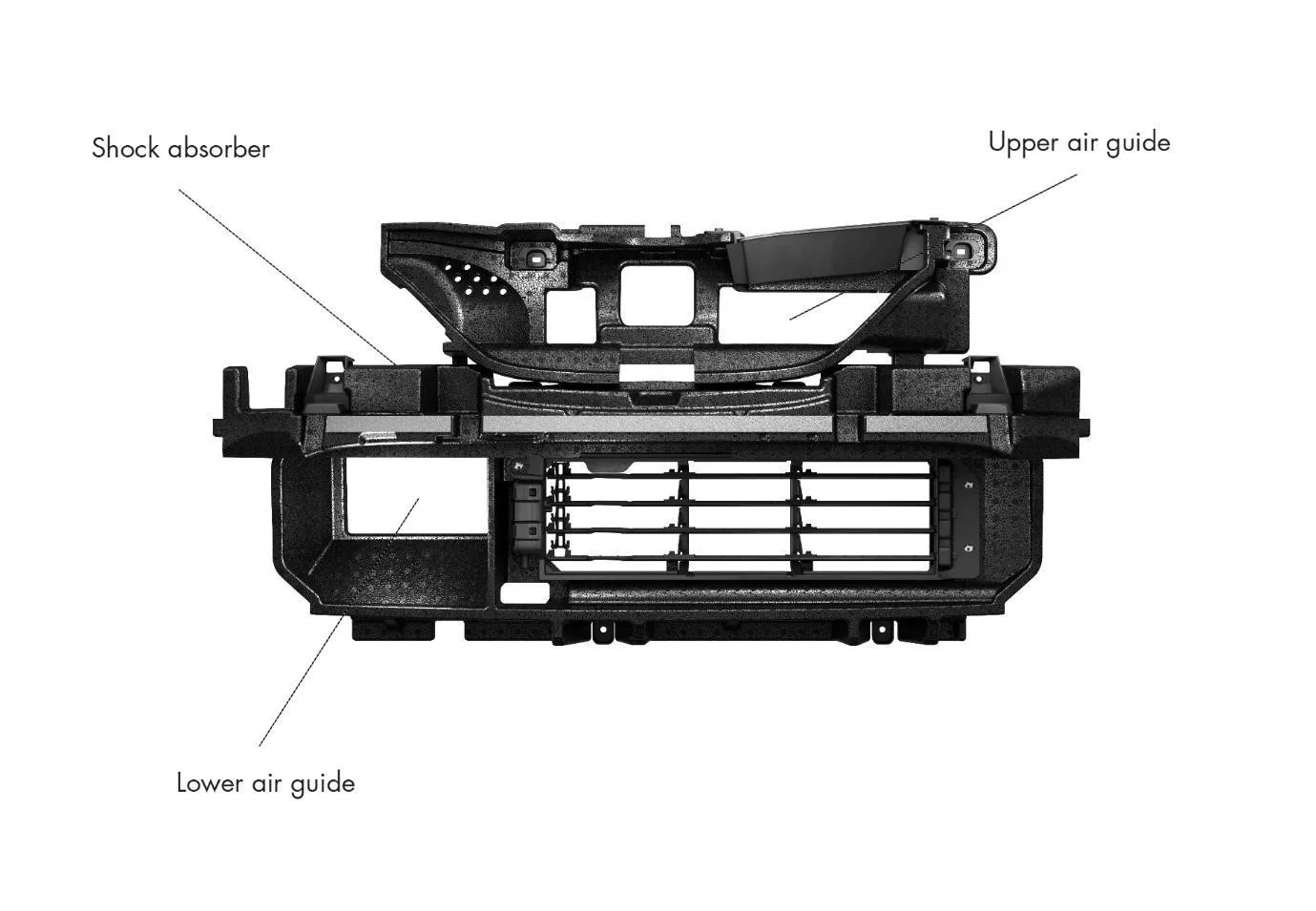 The bumper absorber is the part located behind the decorative plastic bumper which takes up energy generated during collision. The whole front-end module (i.e. bumper energy absorber, air guides and overmolded car fender- and bumper skirt- air grilles) protect all mechanical components behind it. The technology and material selection used in the manufacturing of the rear bumper shock absorber have also a significant impact on the pedestrian protection in case of a collision.
Challenge: Lighter, better designed parts – improved pedestrian safety.
Our long-standing partner challenged us with the second generation of Renault Captur program. The RFQ consisted of parts and components on the front of the vehicle and therefore subject to different constraints (temperature, humidity, gravel, snow, etc.).
We focus on the business of our automotive Clients, helping them to optimize their costs while increasing the value of their products. We support them continuously to achieve their product improvement goals.
Low weight and improved pedestrian safety – the advantages of front bumper impact absorber module
Renault was looking for a light, less rigid plastic solution to have parts more favorable to the pedestrian NCAP crash tests (low speed 30 km/h). From the experience of our foam experts in Knauf Industries Automotive division, and also from other industries, we immediately could recommend the expanded polypropylene (EPP) which is shock-absorbent and extremely light at the same time. The closed-cell expanded material is widely known for its successful application in passive safety systems. Based on the complexity of the parts, our R&D defined the appropriate characteristics of the material needed for this specific program.
Renault has therefore decided to launch a request for information for the design and production of the complete function in EPP.
Thanks to our extensive experience and knowledge in the automotive parts production, we could answer in time to Renault teams with a complete solution complying with specifications and quality targets, at a competitive price.
See also: 3 most popular applications of EPP in automotive parts
Complete offer to fulfil all the requirements
At Knauf, prices include a robust industrialization process, with expert teams to support implementation. At each program stage, Knauf will support you through its industrial capabilities and resources. In the case of Renault Captur front-end module (air guides and shock absorber), we closely worked together with the Customer to finalize the design of the foam impact absorber parts and adjusted during the development any items to reach expected targets in terms of functionality, weight, finish, and quality.
See also: Our approach to project management in the automotive industry
Expanded polypropylene front bumper impact absorber guarantees a successful solution
The result of our cooperation turned out to be a great success since Captur is benefitting from a substantial weight reduction on the total function: the parts are extremely light and safe for pedestrians.
"Automotive car makers replace conventional plastic function with expanded polypropylene foam. We keep the aerodynamic functionality with air flow sped up to engine, but we improve the efficiency of the pedestrian shock absorption while generating a substantial vehicle weight saving that is divided by more than 4 for a function of 3 to 4 kg according to modules". – explains Sylvie Janod, Automotive Market Director at Knauf Industries.
We contribute to OEMs' product offer by leveraging weight reduction. Carmakers improve their carbon footprint thanks to expanded polypropylene which is also a 100% recyclable material.
To create more benefit for our Customers, we deliver air guides with overmolded plastic inserts, friction inserts, anti-cigarette grille, and a snow-stopper function.
See also: Automotive components manufacturing by Knauf Automotive
We are looking for further challenges in this type of application as making safer and lighter our Clients' vehicles is one of our mission goals in Knauf Industries Automotive division.
Please contact our experts for more information on lightweight automotive solutions!