Automation of intralogistics processes is becoming a daily reality for more and more companies. Automated shelving, conveyor belts, WMS systems and mobile robots are already used not only by large companies, but also by small and medium-sized enterprises. Why is it worth investing in such solutions?
Automated storage – what is it and how does it work?
An automated warehouse is a type of facility where most processes take place using various types of machines and equipment that carry out programmed activities. These are usually repetitive activities related to receiving shipments, internal transport and storage, as well as completing orders and issuing goods for shipment. Their correct operation is supervised by the WMS (Warehouse Management System), an IT warehouse system, which sends orders to individual equipment and watches over warehouse inventory. There are several levels of warehouse automation, depending on how many processes are carried out by machines and how much participation by employees is necessary.
Levels of warehouse automation
Intralogistics distinguishes between three stages of automation: low, medium and high. In the first case, the daily operation of the warehouse is based on traditional solutions, such as ordinary racks and pallet trucks operated by employees. Overseeing the smooth and safe operation of all operations, the work of individuals and the state of the warehouse requires the employment of qualified specialists, which entails increased costs. In the case of a medium level of warehouse automation, employees are partially supported in their daily activities by machines, e.g. for moving heavy goods, which increases efficiency and safety. In this case, processes are also often planned in the WMS information system. On the other hand, we can talk about a fully automated warehouse when more than 95% of the processes are carried out by automated machines. In that case, the task of employees is only to watch over their work and possibly carry out more complicated activities that machines cannot cope with.
Advantages of automated storage systems in the automotive industry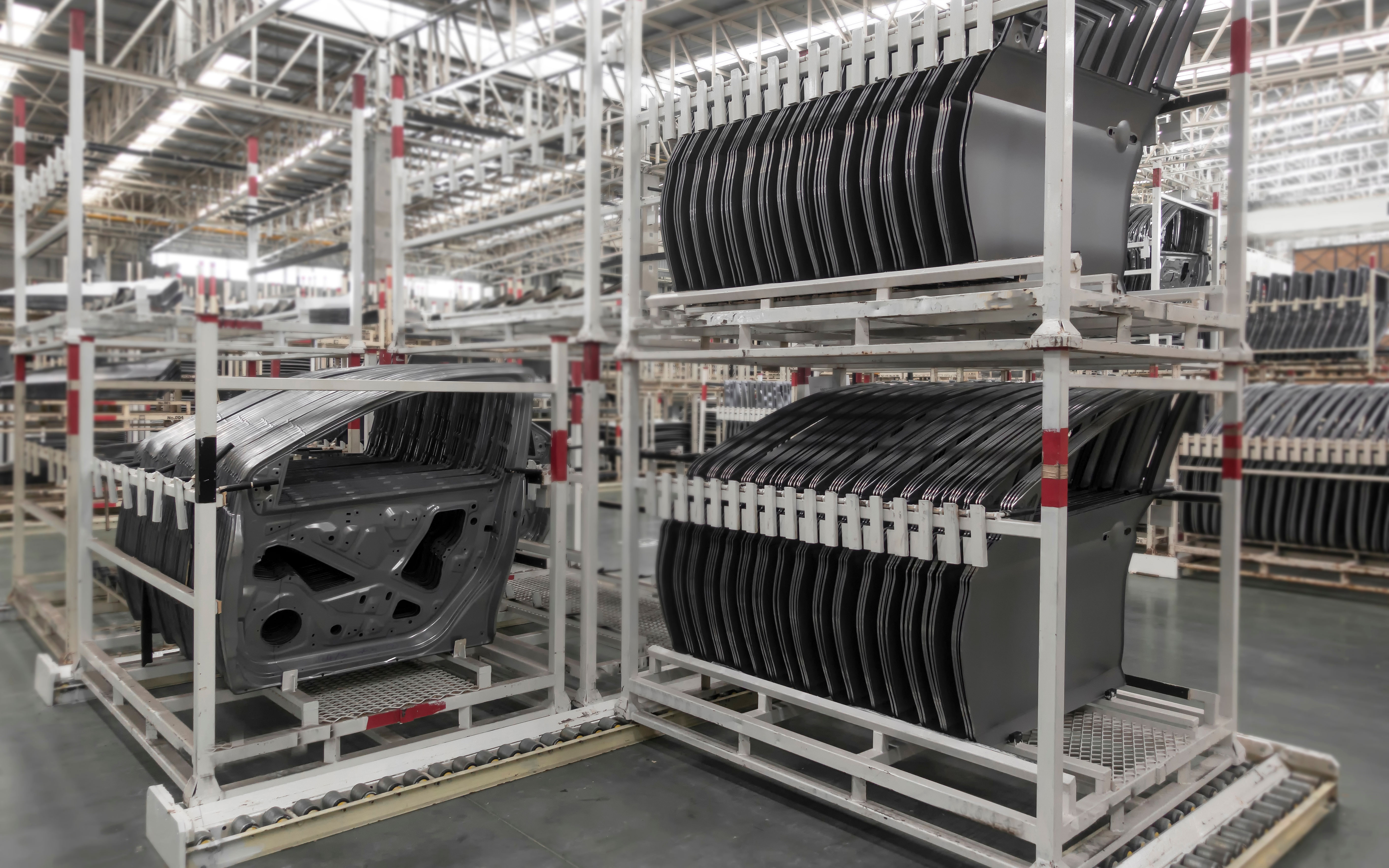 The automotive industry is one of the world's strongest and fastest growing industries, which is also characterized by the highest degree of warehouse automation. The management of warehouse processes is extremely complex here, due to the large variety and number of incoming and outgoing parts, the dynamic turnover of goods and the emphasis on the reliability of order fulfillment in the "just in time" delivery model. Warehouse automation provides automotive companies with a number of benefits, and today is already an integral part of their operations. It is one of the latest technologies that fit into the concept of Industry 4.0, which at the same time provides answers to the question of how to reduce production costs.
Increased supply chain efficiency
Automated warehouses save up to 80% of the storage space that is taken up for example by forklifts in traditional logistics operations. In addition, so-called automated high-bay warehouses use racks more than 7.2 meters high. This increases the capacity of the warehouse, which is of colossal importance, also in terms of today's warehouse space rental costs. In addition, automated machines can work continuously, do not suffer accidents, do not require heated and well-lit rooms, and do not make mistakes. All this increases the efficiency of logistics processes inside the company up to three times. At the same time, the costs of carrying out activities related to receiving, internal transportation, picking and issuing of goods are reduced. As a result, the efficiency of the entire supply chain also improves considerably.
Real-time inventory fluidity
In modern warehouses of automotive companies, a WMS management system watches over inventory. This enables constant identification and control of the flow of cargo, from the moment components or raw materials are received, through quality control, to the moment of distribution to the customer. Verification of inventory levels in real time avoids out-of-stock situations, which could cause a temporary interruption in the supply chain and delay the delivery to the final customer. Reliability and timeliness are competitive prerequisites in the automotive industry. Any shortcomings in this area can result in serious financial losses and even loss of customers.
High security of cargo and personnel
The handling of relatively large, heavy and expensive components could not be accomplished without the use of automated conveyors or warehouse elevators, which are part of the equipment of an automated warehouse. Warehouse robots – industrial robots, or so-called co-bots, that perform the pick-and-pack tasks, which include lifting and packing of the products – are also widely used in the logistics spaces of automotive companies. Transferring the physical load from people to machines allows to protect the health of employees, provide them with greater comfort at work, and thus allows to reduce the number of sick leaves resulting, for example, from injuries. In addition, thanks to automation processes, more and more women are finding work in modern warehouses.
Efficient and precise order picking
Quick and error-free preparation of orders for shipment is a prerequisite for reliable and timely delivery. In automated warehouses, this entire process is carried out according to the "order to person" model. In this solution, the machine independently classifies and retrieves the goods, which are then transported to the picking station. This task can be carried out by stacker cranes and conveyor belts or mobile warehouse robots. This way, the warehouse worker no longer has to move independently among the racks in search of the ordered goods. The efficiency of such a process is definitely increased, which, moreover, can continue 24 hours a day. In addition to machines and management systems, the work of an automated warehouse is also supported by modern packaging systems used in logistics.
Advantages of using Komebac® containers in modern logistics systems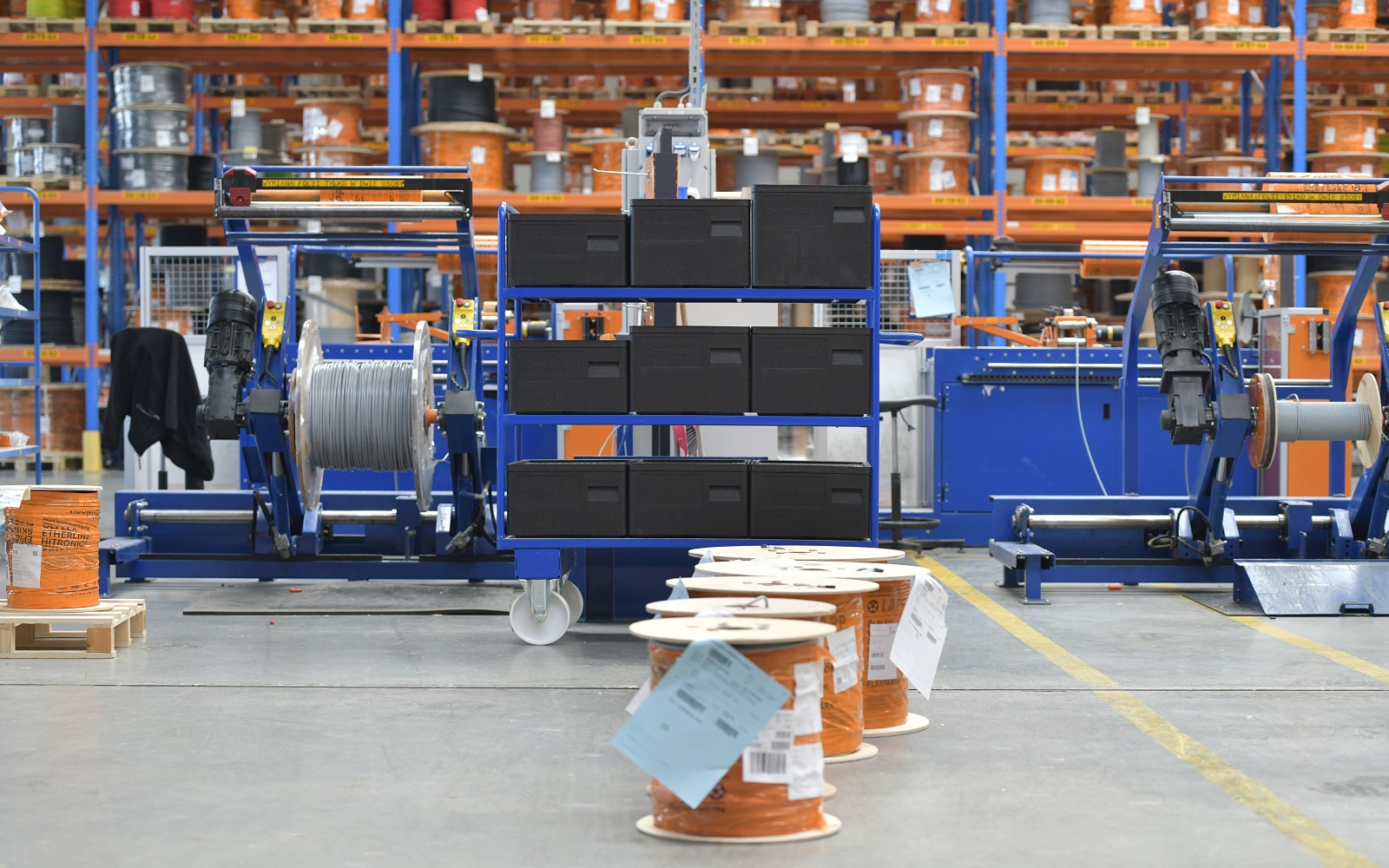 An automated warehouse requires properly prepared containers for storing and transporting goods. Above all, they must be equipped with an identification system that allows machines to read the data, and they must be tailored to the requirements of conveyor belts, rack stacker cranes or robots. In addition, goods in the automotive industry can sometimes be very heavy and have unusual shapes, which poses a major challenge for standard plastic containers. The answer to the specific needs of automotive companies are the ultralight EPP foamed polypropylene containers developed by Knauf Industries engineers. Made from a cellular material that is 95% air-filled, the returnable Komebac® containers are 62% lighter than standard plastic industrial packaging, yet extremely durable and impact-resistant. This makes them ideal for storing even very heavy goods, while reducing the overall weight of the load. Thanks to their excellent damping properties, they do not make noise during transport on conveyor belts and allow easy mounting of identification or labeling systems. The cost-effective pressure molding method makes it possible to produce packaging with customized dimensions, interior organization or even with special inserts mapping the shape of the product.