The surface decoration techniques of plastic parts make it possible to achieve extraordinary visual effects. How does painting the parts and making imprints look like, following modern standards?
Painting plastic car parts requires the appropriate procedures. Learn the best techniques for every situation.
Great design with the best solutions – decorative injection molding techniques
The aesthetics of the car interior play a very important role. This is one of the decisive aspects in the eyes of potential customers. We perform decoration services in cooperation with our experienced partner. Injection molding experts from Knauf Automotive supervise the process all along its way.
The surface decoration methods for injection molded components at Knauf Automotive ensure that the painted part maintains its condition for a long time. Imprints are made using lasers, pads and hot stamping techniques, as well as vacuum and PVD metallization. This ensures great durability of the decorations, fast production time of the part in the final form with the imprint and minimum production cost of the injection molded parts. Reducing the product's time to market and ensuring perfect manufacturing precision makes it possible to create more and more ambitious projects. Specialists from Knauf Automotive innovation laboratories (ID Lab) can help with this.
See more: Automotive components – Knauf Automotive's offer
High quality standard of plastic decoration and component painting techniques
In order to ensure the highest quality standard, we maintain strict cleanliness in the rooms where injection molded parts are painted. Finishing components is carried out in the most sterile conditions possible. This reduces the risk of undesirable visual effects or defects.
Our supplier uses painting techniques characteristic for the automotive industry and other modern industries. We can guarantee that the car parts painting process will be performed with maximum efficiency and fit perfectly into the finished project.
What techniques do we use?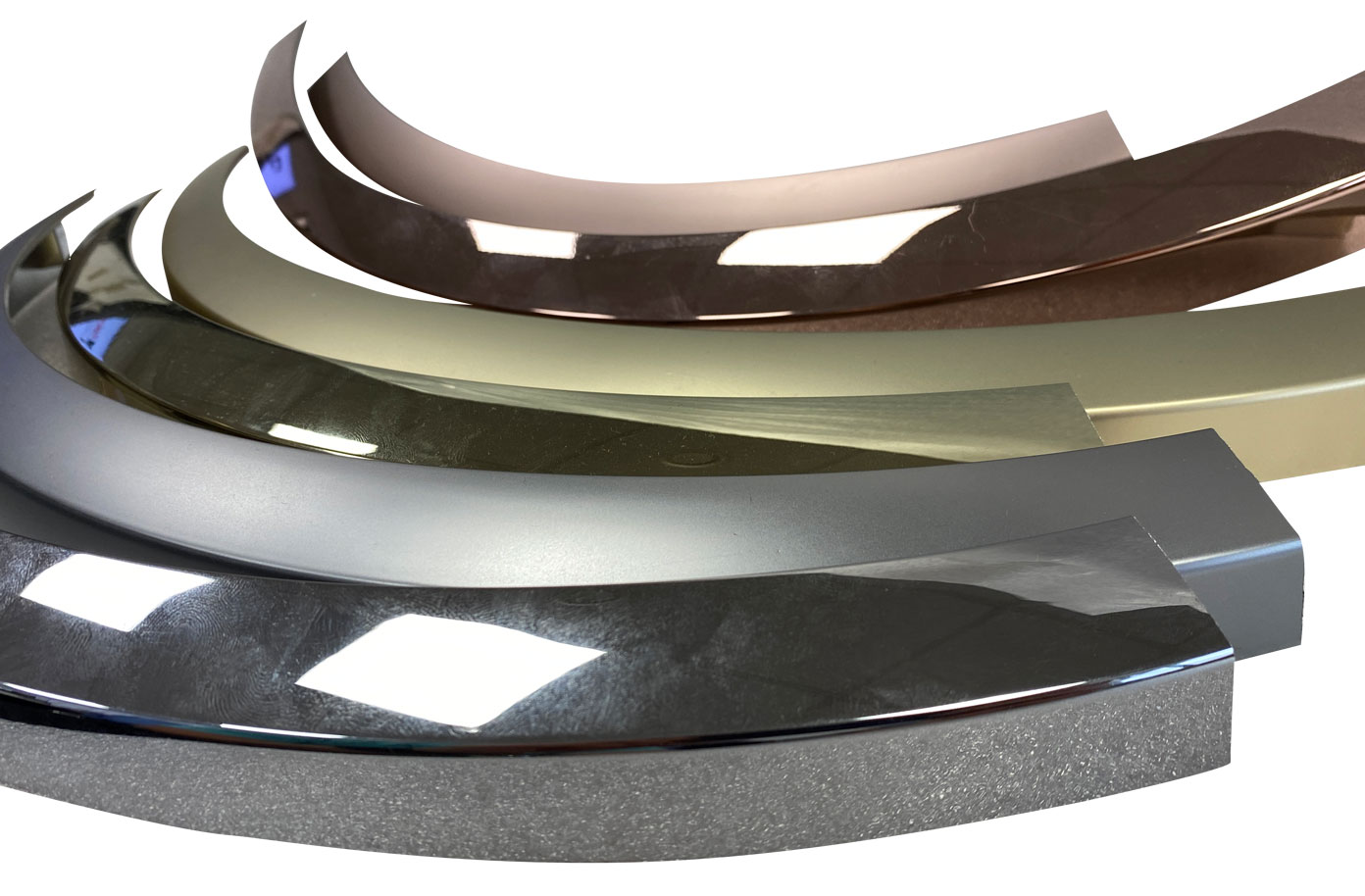 Pad printing (tampography) – performed using an appropriate matrix with ink. This is quite a simple method which allows for high efficiency and extremely durable, virtually wear-resistant imprints. This technique of surface decoration can also be used on irregular objects.
Hot stamping – a technique which aims at decorating irregular surfaces to an even greater extent. This is a very popular choice when decorating elements made of artificial materials. The process is based on a simple principle – a matrix is created which can be imprinted (together with lacquer and plastic) on the printed surface of a vehicle part.
Laser marking – this method is used where high quality is most important. It enables very precise engravings and pigmenting surfaces, as well as making the necessary markings. It is an extremely accurate technique that can be used on unique materials – especially where other methods can cause damage.
Vacuum and PVD metallization – this is a technique of decorating car parts performed in a vacuum, which makes it possible to achieve extraordinary visual effects. During the process, a coating of various types of metal – from chrome, through silver, to titanium – is sprayed to provide a specific visual or practical effect. PVD stands out from other techniques by its ability to achieve higher accuracy and greater repeatability. The decorations themselves can better reflect the character of a given part.
At Knauf Automotive we also coordinate manufacturing of automotive parts with custom plastic in-mold decorating (IMD) and in-mold labeling (IML). Our wide knowledge about decoration technology gives you opportunity to support the design and manufacture your product in effective and economical way.
Painting plastic parts – the car interior should look as good as possible
Numerous car parts made of plastic need to have a suitable imprint or are covered with paint. Painting car parts calls for responsibility – creating the required aesthetics means additional costs as well as some environmental damage. For this reason, it is worth focusing on the possibilities offered by a modern approach to the industry.
At Knauf Automotive, we understand that in the 21st century, material innovation and the circular economy matter, as customers are very demanding. Therefore, we only use proven methods of decorating injection molded surfaces. The right plastic painting technique offers a chance to make permanent decorations that maintain the appropriate design for a long time.
See more: New EPP laser texture for the automotive industry
The environmental importance of printing emblems and painting car parts
Precise automation systems from Knauf Automotive are an opportunity to reduce the number of wasted components during the production process. We also reduce the amount of waste by making the process as precise and efficient as possible. Decoration techniques for injection molded parts do not have to be environmentally unfriendly. With adequate resources devoted to reducing the environmental impact, as well as a focus on ecological and biodegradable raw materials, we are able to support our partners in implementing solutions that are more and more environmentally sustainable.
Our experts are always designing new solutions with the environment in mind, and the challenges of the automotive sector are no stranger to us. All 42 plants that make up the Knauf Automotive production network use the most energy-efficient production solutions possible. Cooperation with us in the production and painting of plastic car parts is an excellent opportunity to achieve the highest quality and reduce the negative impact on the environment.
Please do not hesitate to contact us for more details about decorative injection molding techniques and manufacturing solutions for the automotive sector.