When buying a car, the details are very important. Soundproofing wheel covers can become a potential bargaining chip when making purchasing decisions. This improves safety and sound insulation, and also protects the vehicle from various hazards.
The role of wheel covers in a vehicle
Wheel covers are an important part of the construction – when driving there are many factors that affect their functioning. They are increasingly used when you want to improve the comfort of your car while increasing safety. The wheel cover is exposed, among other things, to the negative influence of chemicals and surface elements. For this reason, it is important to manufacture it from suitable materials which will easily stand up to unfavourable conditions.
The wheel cover also acts as an additional support in providing sound insulation. The noise level in the cabin is one of the most important aspects the buyer takes into account. Without a soundproof wheel cover, there are significantly more unwanted sounds inside the cabin.
It is worth learning about the production methods of the solutions which support the supply chain in car factories. Appropriate cooperation may result in a significant improvement of certain vehicle parameters. Innovations and solutions in the field of Industry 4.0 have been driving the success of Knauf Industries Automotive for years. Many years of experience have allowed us to gain knowledge about the issues that we should take into account when creating this type of product. We know how to soundproof the wheel covers in order to improve the driving experience and how to respond to our customers' flexible reactions to changes in the automotive sector by providing the latest technology and maintaining a stable supply chain.
Alongside with the wheel cover production we offer to our automotive customers assembly. To guarantee more added value, we attach: clips, spoilers, acoustic foams and all other required elements. All of them undergo mistake proofing control process (Poka-Yoke) to confirm the proper assembly of the additional elements.
See also: Offer of automotive injection molding car parts
What is most important for the production of wheel covers?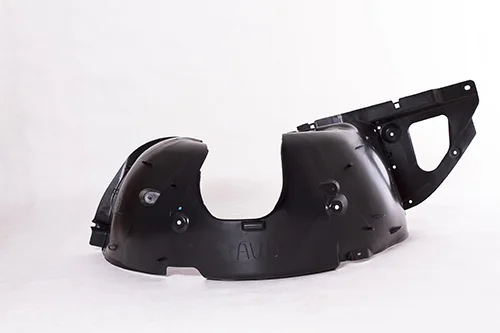 Plastic wheel covers have excellent parameters in terms of durability. Due to their material properties, they can be successfully used for many years – they are not susceptible to deformations and damage as a result of contact with chemicals dangerous for a regular vehicle surface. What is more, their production provides a lot of freedom. In the case of Knauf Industries, the use of state-of-the-art injection molding equipment allows smooth production of these large-size vehicle parts. This ensures that the supply chain functions perfectly and finished solutions are delivered to our customers immediately.
Individualized projects facilitate the best possible adjustment. This makes it possible to create a quiet, soundproof interior that is at the same time resistant to various external factors. With our long-term manufacturing experience we are able to produce perfect plastic wheel covers, which will make possible quick assembly and smooth installation. In practice, this means a reduction of allocated resources, which translates into higher profits.
The specific type of material that was used to create the product is also important. A suitable material makes it possible to obtain the required resistance, protection against negative factors, operation at extreme temperatures, and efficient production. In the case of Knauf Industries Automotive, we rely on trusted raw material suppliers who guarantee material's desired properties.
Injection molded wheel covers made of synthetic polymers
Plastics are characterized by their lightness, which is beneficial for car production – both in terms of human resources and energy savings. In later use, it also makes it possible to reduce fuel consumption. Injection molded components are lightweight and have a good level of shock absorption, providing optimal acoustic comfort in the cabin.
Read also: Bi-component injection molding technology
Thermoplastics can be found in many models of the most renowned brands in the world. Materials used to production of car components have also extraordinary properties in terms of resistance – including chemical substances. Components made of plastic materials definitely improve how a given vehicle functions. Injection molded wheel covers will ensure excellent durability, many years of operation, and low weight, as well as considerable design freedom for car manufacturers.
Knauf Industries plastic wheel covers – proven solutions
For many years we have been cooperating with numerous renowned brands which are distinguished by their excellent quality and innovation capacity. We try to create the best solutions in the field of car parts and components. At the same time, we take into account the issues of conducting business in the automotive industry which 21st century suppliers struggle with.
Industry 4.0 solutions, the ability to transfer projects and create elements based on 3D scans, provide an opportunity to completely change the vehicle manufacturing sector. Flexibility is also important for us – granting the ability to adapt to prevailing market trends. In order to improve the supply chain of the entities cooperating with us, we apply the best solutions regarding both the support in design stage of a given component and also its manufacturing. Choosing Knauf Industries also means choosing a positive approach to ecology and nature. We use 100% recyclable raw materials and energy-efficient production technologies.