We are currently witnessing a successive transformation of the automotive industry. Year by year, the sector is moving towards low-emission, with the result in the production of more and more hybrid and electric vehicles. It seems that it is only a matter of time before their share of the total car market increases massively. Under such circumstances, we are also likely to experience major changes in the production market.
A future marked by electric cars
We will certainly see the development of electric batteries in the coming years, as well as road infrastructure adjusted to them – for instance, through an increase in the quantity of charging stations. According to forecasts, the share of electric cars in the automotive industry could rise to as much as around 60% by 2040. At present, by contrast, this figure is approximately 2%. These figures are a sign that the electrification of the automotive sector is set to receive considerable momentum in the following years, with an ever-increasing upward trend.
Binding European Union regulations
While the global shape of the automotive industry in the future cannot be precisely predicted, it is somewhat clarified when it comes to the Old Continent. Significant steps have already been taken by the European Union to meaningfully reduce emissions from wheeled vehicles. It has introduced a ban on the sale of new combustion-engined cars from 2035, which will apply in all member states. This means, therefore, that from this date onwards, all newly manufactured cars (both passenger cars and delivery ones) will not be allowed to emit carbon dioxide.
However, it is worth noting that it will still be possible to use and trade in previously produced cars on the second-hand market. Thus, the number of internal combustion cars in Europe will not fall entirely to zero, but will decrease sharply year by year in support of low-emission vehicles.
The role of nickel in the automotive industry
The evolution of the automotive industry also brings with it changes in the raw material market. Currently, one of the key elements for the automotive industry is nickel – specially due to the diversity of its applications. It is used both in the manufacture of stainless steel and in the production of catalytic converters. Its consumption in series production of cars is therefore already at a very high level. It turns out, however, that nickel has another very important application in the automotive industry, on the basis of which it can be expected that demand for this material will increase even more in the near future. This is because it is an essential component in the production of hybrid and electric cars.
In the production of which automotive parts is nickel used?
Nickel alloys are used in a wide range of automotive components. Due to their high flexibility and resistance, they are used to manufacture bumper and wheel components, as well as spark plugs or turbochargers. This material offers an excellent combination of strength and flexibility, making it a good choice for the production of automotive components.
Nickel and electric car production
Nickel is used in the production of electric batteries. This material is used as the basis for lithium-ion batteries, which are a very common energy source in electric vehicles. It should be noted that, due to its properties, nickel is ideal for higher-power batteries. It can thus be assumed that it will perform a fundamental role in the electric power supply of vans and trucks.
How much nickel is used in the production of electric cars?
Global demand for nickel for EV batteries was around 60,000 tonnes in 2018. It is estimated that the market for this type of battery could increase up to tenfold between the aforementioned year and 2025. Under such circumstances, the demand for nickel is also likely to increase to the same extent. Thus, the deposits of this raw material used in the automotive industry could amount to around 600,000 tonnes in 2025.
Indonesia as a strategic point for automotive industry transformation
Interestingly, in Indonesia, a country with some of the largest nickel reserves in the world, they are well aware of the importance of this element in the upcoming decades. In 2020, the country's authorities banned exports of the metal's ore due to an expected increase in demand. Despite this, foreign sales of processed nickel products are still allowed there. In this way, the Indonesian government wants to create beneficial conditions for the operation of electric vehicle factories, the number of which is growing steadily. In the future, Indonesia may therefore play a very important role in the production of electric vehicles.
Which countries are consuming the most nickel?
The high demand for nickel is mainly found in countries that are identified with high levels of economic development. Global leaders in this case include countries as: China, the United States, Japan, South Korea, Taiwan or Germany.
EPP's contribution to electric car battery production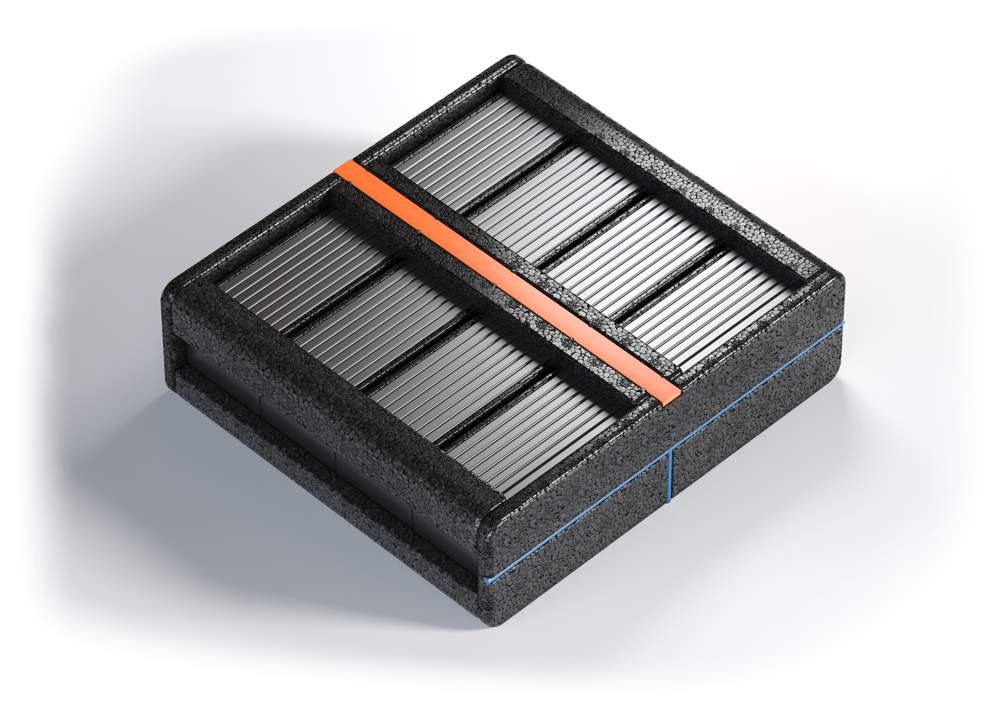 At Knauf Industries, we are committed to both the design and manufacturing of expanded foam components for automotive batteries. We want to ensure that our partners receive batteries with significantly improved performance and optimised service lifespan – using expanded polypropylene (EPP) for their production. We are thereby developing high-performance solutions for the electromobility sector.