At Knauf Industries, we are lucky to participate in many outstanding automotive programs. In this article we would like to share some brilliant news from one of our long-standing OEM partners – Toyota Motor Europe.
The legendary Toyota Yaris was elected "Car of the Year 2021" by a jury composed of 59 European automotive journalists, across 22 countries. This Japanese brand has been awarded the title of "The Car of the Year" three times. Yaris won for the first time in 2000, followed by Prius in 2005 and now Yaris has lifted the exceptional trophy again in 2021. Thus, Yaris has joined the honorable group of double CotY winners – alongside Renault Clio and Volkswagen Golf.
Although there was strong competition this year, including such automotive greats as EV Fiat 500, Seat Cupra Formentor, Volkswagen ID.3, Skoda Octavia, Land Rover Defender and Citroën C4, Yaris came through as a consistent contender.
Winning for the first time in 2000, Yaris – conceived in Japan and made in France – was acknowledged for its compactness, bold style and dynamic engine.
This 4th generation Yaris was lauded for its major improvements
Firstly, the Car of the Year jury appreciated its impressive fuel economy and its low emissions. One of the juror excerpts says:
"A major qualitative leap in hybridization and efficiency that allows for almost unbelievable fuel economy figures."
On the top of its low emissions, the new Yaris model with its hybrid electric powertrain has an enhanced capability to operate on its electric power alone, at higher speeds and over longer distances.
It is worth mentioning that on urban journeys, the new Yaris can operate for a significant amount of the time with zero emissions, just like any BEV, but without concerns about recharging. The previous generation of this model already gave a chance to hybridization; but the new Yaris simultaneously improves in fuel efficiency, emissions and performance.
This explains why more than 80% of all Yaris buyers choose the hybrid powertrain. Toyota is strongly promoting its hybrid 5-door hatchback version, which is distinguished by accessible pricing and class-leading safety.
Knauf Industries, in its field of expertise, endeavors to provide the ideal tailored solution so as to actively support its customers in their quest to increase fuel efficiency. It's our mission to contribute by means of our lightweight components to overall vehicle weight reduction in order for our customers to achieve their CO2 reduction targets. We are proud to support Toyota Motor Europe and the new Yaris, and play our role in their CO2 reduction road map.
Read more about the lightweight foam solutions on offer by Knauf Automotive
Emissions cleanness & safety come along with impeccable design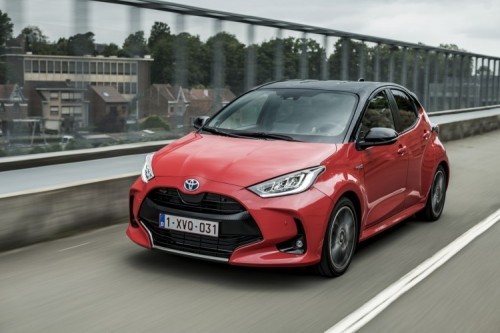 Not only is Toyota Yaris a sustainable choice, the Car of the Year jury also acclaimed the winner for its drivability – something owned to the new GA-B platform and attractive design. Among other features, the new Yaris offers an improved passenger compartment (more convenient driving position, adjustable seat features). What is truly notable, though, is that the new GA-B platform allowed for a reduction in the car's length, but with an increase in its wheelbase thanks to which the interior ensures space and comfort for everyone on board.
It's worth mentioning that the Car of the Year Award coincides with Yaris becoming the best-selling car in Europe, thereby confirming in end-user practice the advantages that were acknowledged by the automotive journalists.
Manufacturing of Yaris 4th generation
The road to manufacturing an award-winning vehicle leads through perfectly organized and streamlined supply chains.
The new Yaris is built at Toyota Motor Manufacturing France's Onnaing plant, where €300 million were invested to enable TNGA (Toyota New Global Architecture) vehicle production. The factory is located near Valenciennes and has been manufacturing the Yaris platform for the last 20 years.
Furthermore, it is worth knowing that the New Yaris is not only manufactured and assembled in France, but was also conceived there. It was conceptualized at the TOYOTA Design Center in Sophia Antipolis near Antibes, in the South-East of France – Côte d'Azur, which was opened on 9th May 2000.
Something else that must be noted is that the 1.5-litre Hybrid Dynamic Force engine and the hybrid transmission are manufactured by Toyota Motor Manufacturing Poland. At Knauf Automotive division, we are proud that Knauf Industries is a major supplier to Toyota Motor Europe, having been chosen to deliver the lightweight foam components that make up this 4th Yaris generation.
Read also: Knauf Industries among the best suppliers of Toyota Boshoku Europe