Automotive Week has become one of the most important events at Knauf Industries for the last three years. Each year, it is organised at one of Knauf's plant locations. The aim of the event is to review the evolution of the market environment and future prospects, look back at Knauf's automotive highlights of the year, share positive and negative lessons learned as well as best practices, highlighting successes and achievements of the teams. During this event, we address our growth pillars, including novelties and innovations creating value for our customers, while continuously adjusting our automotive sector business model. It's a great initiative that creates synergy for the Knauf automotive business unit. Teams from all over the world can meet, share views, present case studies, take part in workshops and panel discussions. We also align our entire organization with our future objectives and share how we will strengthen our position on the market.
This year, Automotive Week took place in Tangier, Morocco, where we launched a Greenfield investment to build our 41st factory. This brand new plant is focused on the automotive market. It was a great opportunity not only to meet new colleagues from the Knauf Industries automotive team but also to discuss issues that are crucial for our company.
Development axes for sustainable growth on the automotive market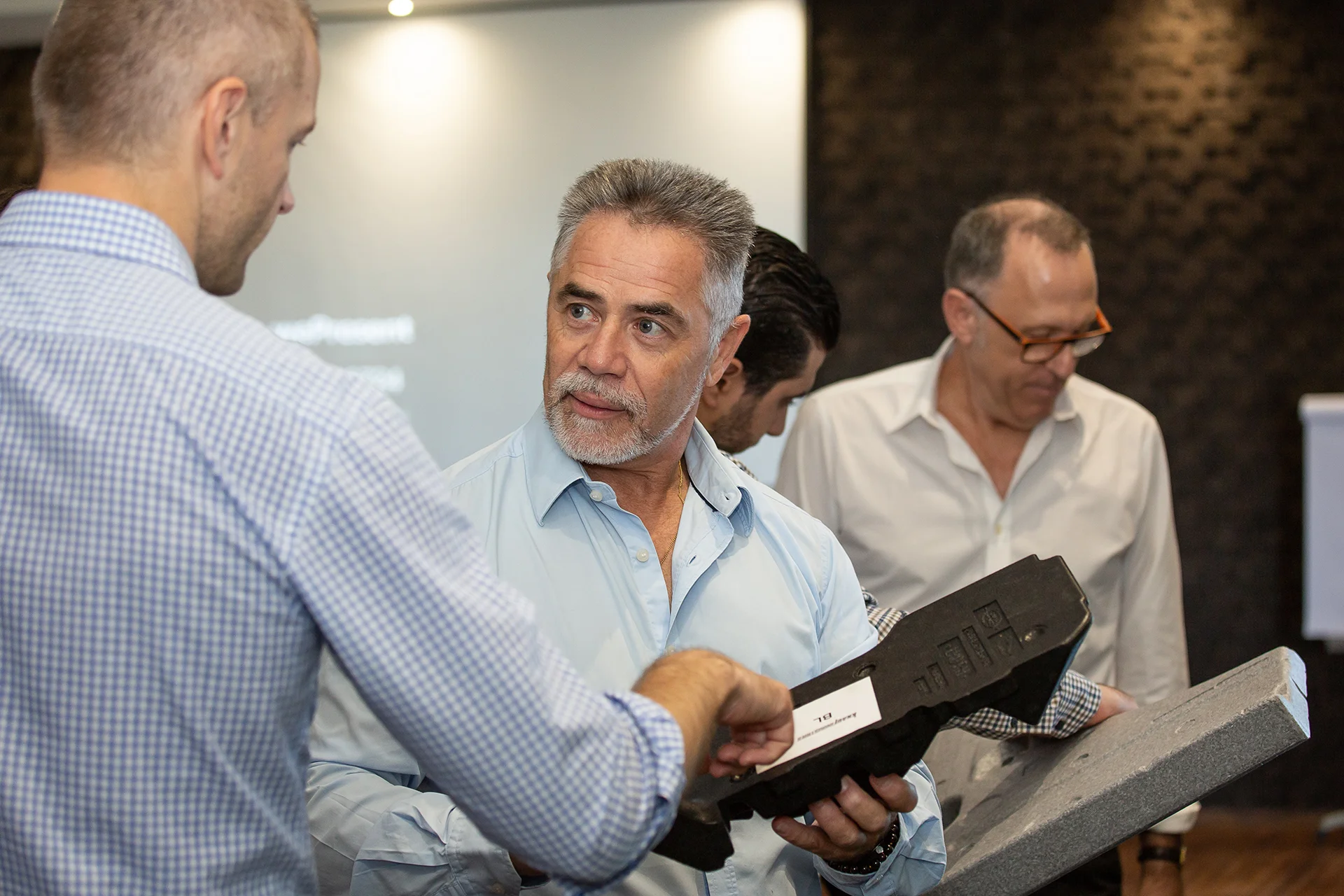 In the coming years, the automotive industry will increasingly contribute to the growth of Knauf Industries. That's why we focused on our overall performance to meet our customers' expectations in the quality, development, deliveries and competitiveness fields. We ended our 2019 Automotive Week event with a visit to our RENAULT strategic customer in Tangier to offer the team a key opportunity to increase our knowledge of customer constraints and expectations.
In the current context of deep mutation and unprecedented challenges affecting the automotive industry, we worked on themes around the electro-mobility trend and used this opportunity to propose ad hoc solutions satisfying the different functionalities targeted by our customers. To gain insight on growth prospects, we analysed future solutions using our materials and how we can reduce weight and offer special properties fitting Electric Vehicles' and Plug-In Hybrid Electric Vehicles' systems and powertrains. We organised workshops, reviewed foams and plastic injection growth road maps. We include in our business target new divisions, new market actors and customers, redefining our development potential.
Another important part of the Automotive Week's agenda was to improve our program development & industrialization performance, focusing on the Program Management System's core values to win customer satisfaction and hence customer's trust. We shared experiences from the most important international programs. We included in the scope our company culture and organization upgrade, our competences and our leadership skills as well as our current and future technologies. We shared RETEX of some complex EPP seating and exterior packages parts.
Innovation as a part of automotive market strategy
Automotive Week wouldn't be complete without a part dedicated to innovative content and Innovation. We can count on the support of ID Lab; this year, 67% of design support was dedicated to the automotive industry, for solving customers' issues and boosting innovative solutions. New prototypes, bio-sourced, biodegradable materials, improved automotive parts validation methods, prototyping, were just some of the subjects addressed during the event.
The development and manufacturing of tools by plastic components suppliers is one of the major requirements of our automotive clients. Therefore, we dedicated an important part of the conference to a separate workshop on this subject. A thorough analysis of cooperation with our tool manufacturer partners gave us clear conclusions on how to make this process even more efficient. We defined success factors for this particular area, including a pro-active approach before being reactive, and a consistent communication model.
Industrial strategy for automotive
We closed the conference with our industrial strategy to support automotive developments and growth. Safety culture and safety risk management is our first priority. New investments and process standardization will guarantee best in class equipment for our customers programs to guarantee repeatability and quality. Best practices and training across Knauf Industries international footprint allow improved performance and industrialization time saving. We guarantee program success by timely decisions and activities from plant and corporate teams for ensuring timely deliverables to our customers.
Automotive Week was a unique opportunity to analyse Knauf Industries' activities for sustainable growth in a demanding industry requiring high adaptability capacity.
We're already looking forward to our 2020 Automotive Week!