While producing injection molded plastic parts is a key stage of a project, it is not the end of the process. At Knauf Automotive, we provide a range of additional post-production services – including, but not limited to, the assembly of automotive injection molded parts. We specialize in carrying out not only standard manual operations, but also most complex processes that require considerable knowledge, experience, and often an automatic assembly line.
Assembly of automotive components
Production of plastic parts is just one item in our extensive range of services. We also provide many other services that deliver added value to our customers – one of which is the assembly of automotive components. As a result, companies cooperating with us can receive products fully prepared for the market, and thus the value of the time-to-market parameter is reduced.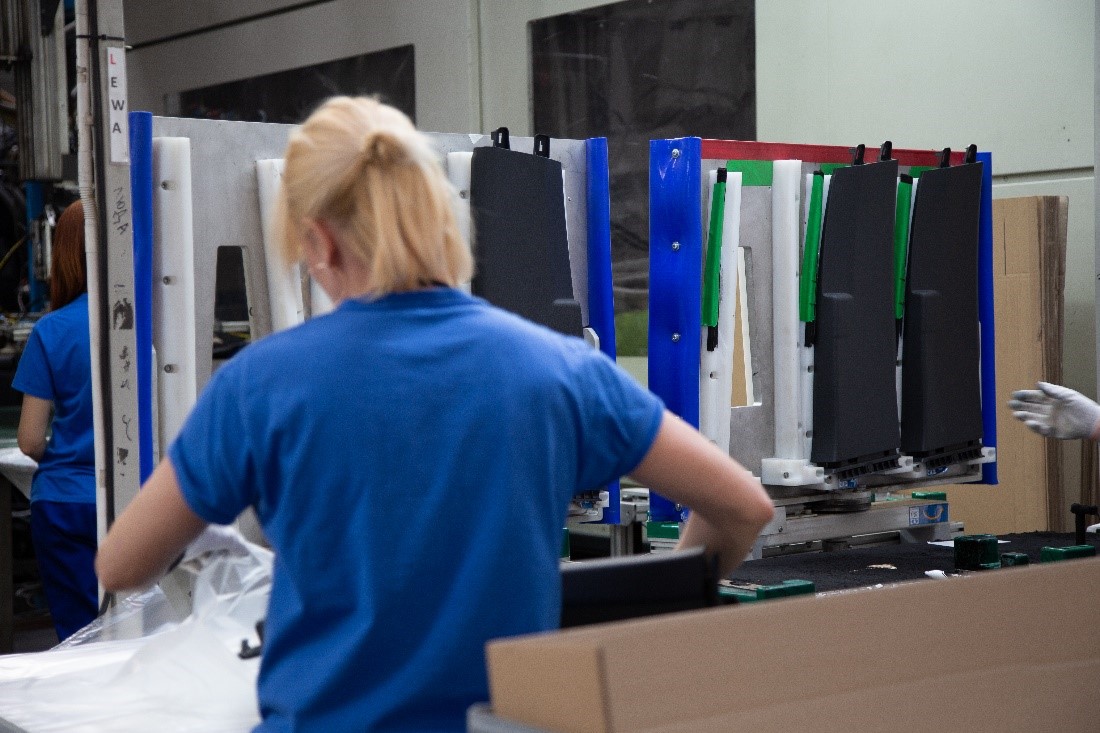 Assembly of automotive parts is a post-production service that includes, among other things, multi-step procedures performed with advanced automated assembly robotic machines. The use of such equipment ensures maximum efficiency, precision and repeatability – factors of great importance in mass production. Automation and robotization of production are well-proven methods to optimize manufacturing processes and increase safety. It also relieves staff of monotonous tasks, allowing employees to focus on more responsible, creative and valuable tasks.
For the assembly of automotive components, we use five- and six-axis articulated robots that are capable of moving in several planes while performing a variety of operations. One of the major advantages of such solutions is the ability to set any orientation of the effector, which makes the machines suitable for both assembly and many other applications, namely product handling, machining, as well as transportation, among others.
Injection molding with assembly
Injection molded parts manufactured by Knauf Automotive can be ordered with assembly, a service in which we offer our customers semi-finished products for the automotive industry. We deal with components designed for use both outside the vehicle (exterior) and inside the passenger compartment (interior). Our product portfolio includes, among others: dashboard components, steering column pads, door handles, air vents, center consoles, roof modules, fenders, grills or sensor mounts.
Elements of the ultrasonic welding and surface activation process
Within our comprehensive offer injection molding can also be combined with other assembly processes. The production of car door panels can be a good example here. After being injected into the mold, plastic components are removed from the mold by 6-axis robots. Superfluous elements are then cut off and the whole part is subjected to flame treatment on the edges, where the tape will eventually be placed. In combination with clips, this makes it possible for components such as panels, slats or thresholds to fit tightly and provide the desired effect in the car body design. Assembly processes can be divided into inline and outline activities, i.e. those that take place on the production line or at a separate, dedicated assembly station.
Such activities include ultrasonic welding, which uses the energy of high-frequency acoustic waves. This makes it possible to join parts very quickly and efficiently without the need for any chemicals such as solvents. Surface activation by the aforementioned flame treatment also plays an important role, as it allows the surface to be highly polarized, which in turn increases its wettability and adhesion, i.e. the bonding strength of different materials.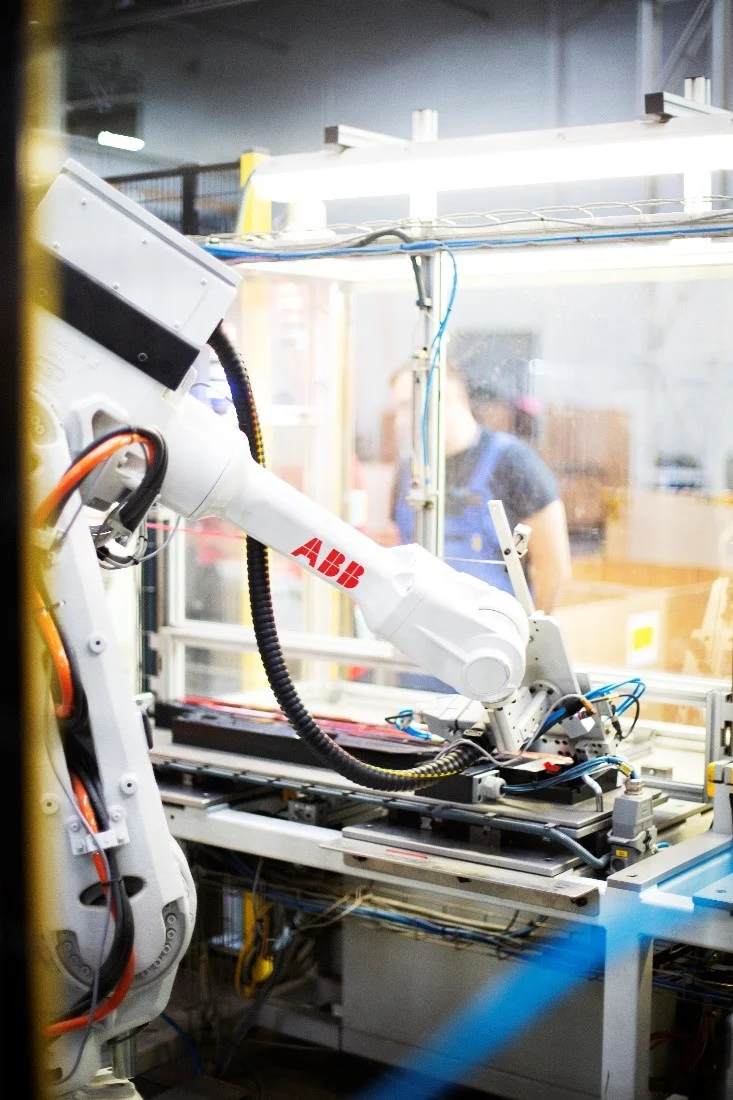 Automatic assembly line
The use of robots in the automotive industry is of particular importance. This is a sector where it is crucial to maintain quality norms related to strict safety standards, among other things. Currently, the most important goal of using robots and automating the production line is to improve the quality of work that requires great precision of operation. The use of such solutions makes it possible to significantly shorten the production cycle and increase the accuracy of the entire process. The robotic assembly line is responsible for maintaining the correct pace and eliminating errors, while human tasks are limited to control functions.
Professional staff and advanced equipment
Robotization and automation of manufacturing requires, above all, effective cooperation between man and machine. Modern robots used in our plants perform complex operations under the watchful eye of a human operator, who, thanks to appropriate equipment, does not have to perform monotonous, difficult and sometimes dangerous operations. During the production and assembly of automotive components, robots are most often used in the form of an arm or several arms. They provide a very large working space, fast and precise movements and flexible assembly options.
Industry 4.0
It should be noted that technology and assembly automation are constantly evolving. Several important trends can already be identified that will play an increasingly important role in the automotive market in the near future. These include the use of robots and the possibility of seamless data exchange as part of IoT and Industry 4.0 solutions. As Knauf Automotive, we are keeping a close eye on the development of manufacturing and assembly methods in order to be able to continuously provide our customers with the appropriate standard by using the most valuable innovations.
Reliable supplier of plastic automotive parts
We are an international plastic parts supplier. We are characterized by many years of experience and professional knowledge, which we continue to develop in the course of implementation of subsequent projects. This way we are able to guarantee that every project, even the most difficult one, will be carried out at the highest level, with highest attention to detail. Outsourcing production is a good solution for companies in the automotive sector in terms of reducing costs, optimizing processes and taking advantage of innovations offered by trusted contractors.
The selection and evaluation of suppliers in the automotive industry is of great importance. No matter what the project might entail, the criteria for selecting partners must be properly specified in order to ensure effective cooperation, increase efficiency, and minimize the risk of losses. At Knauf Automotive, our first priority is customer satisfaction – that's why we constantly maintain the high quality of the automotive components we produce. If you are interested in cooperating with our company, do not wait and contact us today!