As a world leader in EPP and EPS packaging, we at Knauf Industries have been developing both return and one-way packaging solutions for over 40 years. For the automotive industry, we produce mainly: boxes, crates and transport trays made of lightweight foam materials.
Types of transport packaging
Depending on the material used for transport packaging, the following types of packaging are distinguished: wooden, cardboard, glass, metal, plastic and mixed (combinations of these materials are used for their construction). Due to different constructions of transport packaging, we can distinguish between them: boxes, cages, crates, drums, barrels, etc. Taking into account the way the packaging is used, it is divided into disposable and reusable packaging.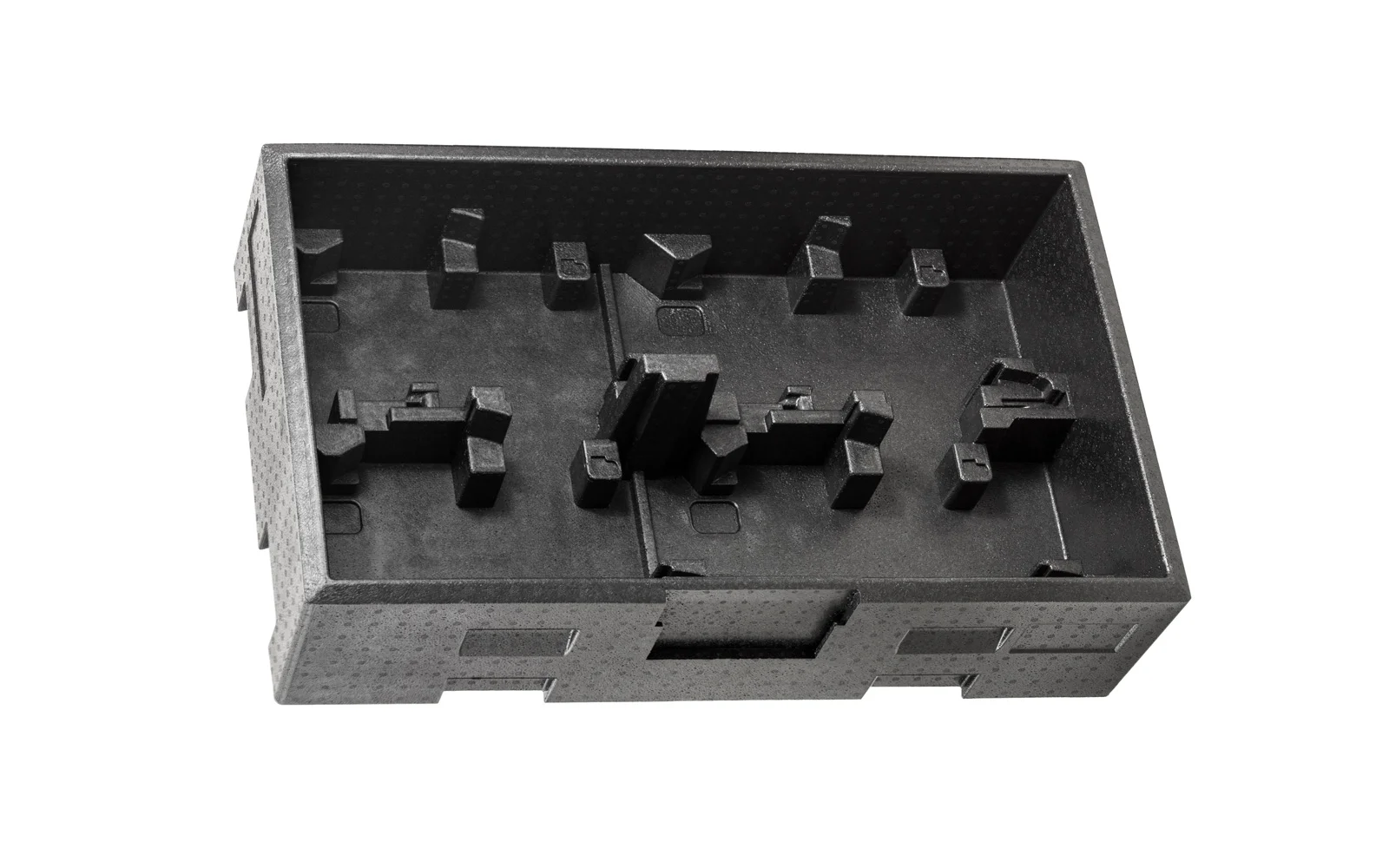 Plastic containers (EPP), which have been our flagship product since the beginning of Knauf Industries as a packaging manufacturer, can be divided into two main groups. The first group consists of packaging with internal compartments, strictly adjusted to the shape of the transported components. They are individually designed according to automotive manufacturers' guidelines in order to protect technical parts and automotive products with high added value.
The ID Lab Research and Development Centre's team of engineers regularly works on the development of new, tailor-made rotary trays, as well as on the optimisation of existing packaging, e.g. by reducing its weight or optimising its shape. Dedicated transport trays from Knauf Industries operate in the supply chains of many renowned OEMs. Thanks to their durability they can be used as reusable packaging even for several years.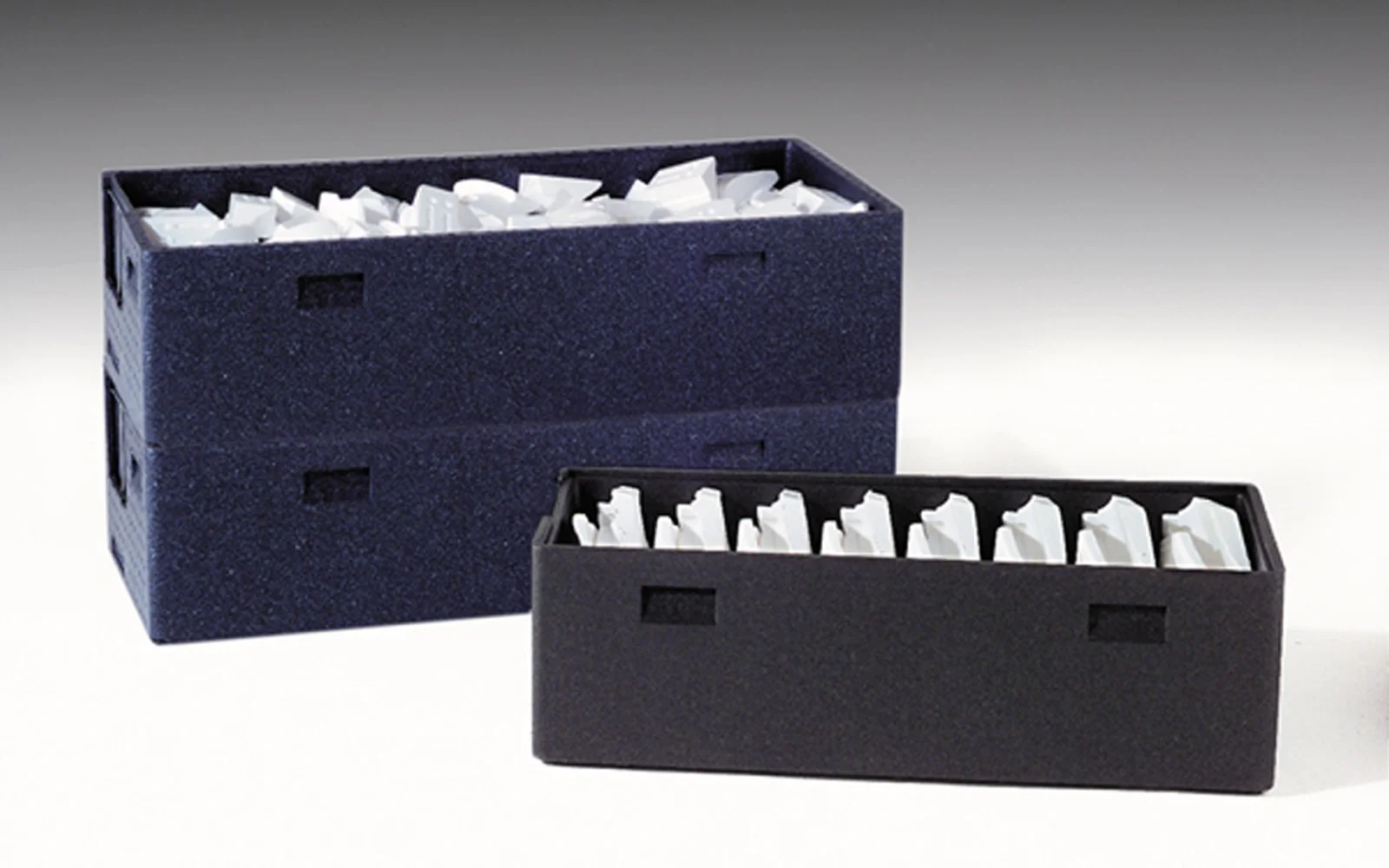 The second group of plastic containers that we manufacture for the automotive industry are packaging without built-in partitions, suitable for transporting parts of various shapes and sizes. An example of this is Komebac® foamed polypropylene multipurpose boxes. An example of this is Komebac® foamed polypropylene multipurpose crates. Komebac foamed polypropylene packaging comes in sizes from: 395x295x130 to 1190x490x350 mm (including the most popular 595x395x230mm). These packagings come in different heights, which is their great advantage. Their construction from foamed material makes them about 60% lighter than their plastic injection molding counterparts.
Differences between EPS and EPP packaging
Customers often ask us about the differences between packaging made of foamed polypropylene (EPP) and foamed polystyrene (EPS). The great advantage of the first of these materials is the possibility of multiple use of its packaging for transporting car parts and the repetition of this process, thanks to its strength and mechanical resistance. Meanwhile, foamed polystyrene – EPS, also known as Airpop, is used in the design and production of one-way packaging, the so-called lost packaging.
Based on the experience and knowledge resulting from many years of cooperation with automotive market leaders, we recommend the use of foamed polypropylene for the design and production of return transport packaging – says Piotr Lewandowski, Knauf Industries expert in the field of automotive packaging.
Advantages of EPP return packaging
EPP return packaging is the optimal solution in many respects. They are extremely lightweight and ergonomic, and at the same time have a much higher durability than other foamed materials. Especially when used to transport parts and components to subcontractors. This has a direct impact on production costs. In addition, EPP is chemically inert so it does not react with greases, solvents and oils. We know very well that this is extremely important for our customers. EPP boxes can also be protected against electrostatic discharge (ESD). This is important for many segments in automotive sector (mostly for electronics).
Watch the video about the production process of lightweight automotive components from Expanded Polypropylene (EPP)
Below we present a list of advantages of EPP, confirmed by our current clients:



Reusable

Thanks to its durability, EPP allows to reduce packaging waste.

Protection

Your valuable goods are better protected by rigid packaging.

Safety

Tight packaging protects against moisture and dirt.

Customisation

Shape, size and weight of the packaging can be modified to suit your individual requirements.




Sustainability

100% recyclability of EPP also reduces the carbon footprint.

Durability

The material is extremely strong in relation to its weight.

Cleaning

The smooth surface makes it difficult for dirt to stick and makes cleaning easier.
Selection criteria for transport packaging
When choosing plastic packaging, several criteria need to be considered. The first is the tolerance of the transported articles to weather conditions. Particularly sensitive goods should have as limited contact with the environment as possible. It is also extremely important to adapt the packaging to the type of goods being transported – their weight, shape and size. The last important criterion is the adjustment of the packaging due to mechanical properties. Such as shock resistance or compression strength. Some of the transported goods are very vulnerable to damage, which is why it is so important to adapt the return packaging accordingly.
The variety of parameters of foamed plastics used in the design of transport packaging by Knauf Industries engineers allows the packaging properties to be adapted to the characteristics of the parts being transported. It is worth noting that all the foamed plastics we use in the production of automotive packaging are 100% recyclable. This makes them a perfect fit for the sustainable development strategy.
Customized packaging
At Knauf Industries we are able to design and manufacture any customized packaging. This will ensure that they are perfectly matched to the dimensions of the product or the transport vehicle.
If you are considering introducing the return packaging in your company, Knauf Industries specialists will prepare a tailor-made solution especially for you. We invite you to contact us.